I have no idea why I did it, but I thought it would be fun to take one whole year dedicated to a generation. So this year it's the 8-bit generation, the front-runners being the Nintendo Entertainment System, Sega Master System and Game Boy. Next year will be the 16-bit, introducing the Super Nintendo and Sega Genesis and so on.
Because of this I've essentially become the "fill-in Virtual Console" reviewer of the group. What's interesting is just how more knowledgeable you become simply by virtue of knowing the origins of these classic franchises. I've gone through the Mario Bros. series, Sonic, Zelda, Final Fantasy, Dragon Warrior, it has been a crazy year, but it makes me think of something me and a few friends argued about.
We were discussing whether history takes a part in what you think of a game, for example, Goldeneye on the Nintendo 64 plays terribly, by today's standards it's an awful game but looking back on it, it was a classic. Goldeneye left the door open for Halo, Call of Duty, you name it.
For me personally, history always plays a role, by determining and having knowledge of when the first game in the series came out, I can tell what aspects of it were (if any) revolutionary, what paved the way for new series and new ideas. It has been an incredible journey.
Living in 8-bits has also taught me a few things about that specific time-frame:
1. Japan was nuts for RPGs, westerners were so-so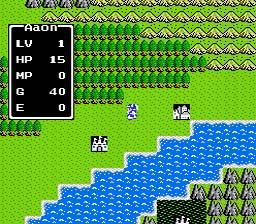 I don't know what it was about RPGs that really hit it off with Japan, but man did they embrace it. From the year Dragon Warrior hit the NES, Japan was engrossed. There were even kids and adults skipping school and work to play the game and when they released the next games in the series (also on the NES), they weren't allowed to release it on a school or work day out of fear of kids and adults skipping.
Final Fantasy dropping a year later only contributed to the cash-flow that was the early console RPG. Whilst North America would have to wait decades for certain RPGs from Japan to rear their heads in the homeland and Europe would practically go RPG-less, Japan was going RPG crazy.
2. The video game wars were much more regional
Ask a person which was more popular: The Sega Master System or the Nintendo Entertainment System. The biggest differentiator will be which part of the world they live on. Whilst the Nintendo Entertainment System blew away Sega overall, you'd be hard pressed to find a kid who had a Nintendo Entertainment System in the UK. When I was a kid, I didn't know another that had one. I knew people that had a Master System sure, but a Nintendo? I don't think most people even played Mario until the remakes on the Super Nintendo round my parts. I'm not saying Nintendo absolutely flopped here, but it's kind of like reversing the Master Systems popularity in the US, Nintendo just couldn't compete. They chose to hand over the rights to sell the console to Mattel in the UK and they did a terrible job, hardly advertising the system and putting it on the back-burner (Nintendo made a European headquarters afterwards and sold the system themselves). I feel incredibly privileged that I had a Nintendo at this time, because otherwise I don't think my love of Nintendo would have flourished like it did.
3. Everywhere except Japan and America got screwed... we just didn't know it yet
OK that might be over exaggerating a bit (Canada's probably cool) but it isn't too far from the truth. America and Japan ran in 60hz, to explain this in the simplest terms, 60hz is NTSC, this means that games running on American/Japanese consoles, made for America or Japan are running in 60hz.
PAL is 50hz, so for a larger part of the world, the power-line frequency is different. Because of this and for a LONG time after this generation, PAL games would consistently run slower than NTSC games and to make it worse, in the very early days such as these, players didn't know it was slower and developers rarely tried to fix it. The only times I can think when this was fixed was Super Mario Bros. and Tetris and even then they just sped the game up, not trying to sync it with the actual original speed. To make it worse, this wasn't corrected until the Dreamcast... so yeah, long time coming. Just to give an example, here's how my NES version of Mega Man II plays:
... Yep.
I have played games that I had as a kid this year (Super Mario Bros., The Legend of Zelda, Alex Kidd in Miracle World), I have played games I missed (Metroid, Final Fantasy, Wonder Boy III: The Dragon's Trap), I think the latter was the more interesting because it has filled the gaps I never had as a kid. I will continue until 2014, when I will transition to the Genesis and Super Nintendo, but this generation was such an interesting time where region meant everything, games almost went extinct and Nintendo made their mark on the video game industry.
What do you guys think of the 8-bit wars? What was your favorite of the two systems? Have any happy memories first getting your Nintendo Entertainment System? Shout out in the comments!