Nintendo says sorry for huge system update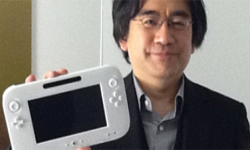 Iwata - my bad
All new Wii U owners have a grueling 4.7GB system update ahead of them as soon as they open the box. If the power supply is interrupted during this, it can spell bad news.
Nintendo's President Satoru Iwata has apologized to loyal customers, admitting this situation should have been handled better.
"Personally, I think that users should be able to use all the functions of a console video game machine as soon as they open the box. So I feel very sorry for the fact that purchasers of Wii U have to experience a network update which takes such a long time, and that there are the services which were not available at the hardware's launch." - Satoru Iwata
Here's hoping there aren't too many bricked consoles because of the large download required. Those of us who have completed the update are glad it's over. Here's to better times!