Skater Cat on 3DS next week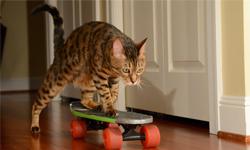 Whiskers and kickflips coming atcha
If, like most people, you enjoy cats and skateboards, Teyon are releasing a 3DS game that should be right up your street.
Skater Cat promises non-stop side-scrolling action where Ollie the cat jumps and rolls his way through over 25 levels.
Here's the trailer:
Skater Cat will be available from the 3DS eShop on March 27th in both North American and European regions. Priced at a mere $4.99/€4.99 respectively.