The Best Upcoming Wii U Games For The Spring and Summer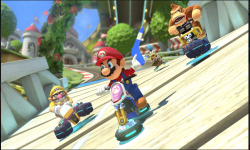 Forget going outside, just play the Wii U!
There are a lot of fun games coming out for the Wii U in the next couple of months. Though the weather might be beautiful, these titles will make you want to stay indoors and play them! Here is a quick list of the games and their release dates:
April 22nd - LEGO: The Hobbit
If you liked the LEGO Lord of the Rings game, you should probably give this a look. Currently features the first two installments of The Hobbit movies.
April 25th - NES Remix 2
If you haven't checked out the first NES Remix, you should get on that. It's a fast-paced game that uses content from all your favorite NES titles!
April 29th - The Amazing Spiderman 2
Prepare to swing into action with this open-world game. Fight a whole slew of baddies from the new Spiderman movie.
April 30th - Child of Light
This unique title combines beautiful artwork with RPG gameplay. It looks like a must buy for RPG fans.
May 30th - Mario Kart 8
Who doesn't love Mario Kart? The new title in the series will feature a whole array of cool new cars, characters, and maps, all in HD!
June 10th - How To Train Your Dragon 2
For a game based off of a movie, the first one was surprisingly fun. Hopefully, this next one will feature just as many dragon battles and customizations as the first!
June 24th - Transformers: Rise of the Dark Spark
This third-person shooter gives you the choice to be either the Autobots or the Decepticons, adding a whole new level of awesomeness to the game.
For a list of Wii U titles that currently have no release dates, Game Informer has complete list here.