Fans revolt over Mega Man on iOS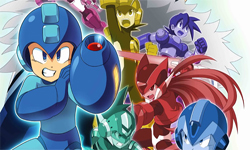 Social game gets goats
This year marks the 25th anniversary of Mega Man. Capcom's iconic blue bomber is known for bringing the pain in a long series of action platformer games on the NES and beyond. This time though, it seems like Capcom are taking a new, gentler direction, in Mega Man Xover for Apple's iOS devices.
Xover features a new main character, and is a game so easy that it can be played with one finger. In case that's not simple enough, an "auto-play" option is given and sections can be skipped entirely.
This might seem like an elaborate joke on Capcom's part, but it's actually the real deal (see here for gameplay footage, it has nearly 3,000 dislikes). As a form of rebuttal, dedicated MM fans have made a Flash mockery of Xover, which they say took less than 24 hours to get up and running.
In case you're still interested, though, here's the official trailer: