Fish now plays... Street Fighter II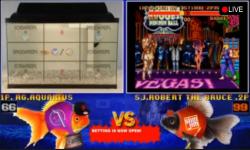 PLACE BETS... NOW!
So do you guys remember my article about FishPlaysPokemon?
Well I have another one for you. My friend told me about this and I had to check it out for myself, and immediately fell in love with the idea. This is FishPlaysStreetFighter!
Our beloved underwater creatures are venturing from RPGs into fighting games, namely Street Fighter 2 Turbo: Hyper Fighting, but this one does have differences to the Pokemon one.
There is a betting system in place on this live stream, where viewers bet on who will win out of the two fighters. Those two fighters are fish, one called AG.Aquarius and the other one called Robert The Bruce. They choose their own characters and fighting moves by using the same system of chance.
If you want immediate action involving fish gamers, then go ahead and give this a view.