Nintendo streamed a new 'Direct' video to every region of the world today, revealing a whole boatload of information on upcoming games, and announcing a few that we hadn't previously heard about.
Satoru Iwata kicks off with his sidekicks, Mario & Lugi. You can see a basic rundown below the video if you don't have much time.
3DS
2013 is the year of Luigi, and Mario & Luigi: Dream Team reaches North America on August 11th. Gameplay takes place between the real world, and Luigi's dream world.
Mario Golf World Tour lets you play in real-time against golfers from across the globe. Also submit your scores to online leaderboards.
Mario Party 3DS is in the works, with seven boards, each with their own rules of play.
Donkey Kong Country Returns 3D is a remake of the Wii version but has been tinkered with to make it more suitable for 3DS and shorter play sessions. A new mode offers DK and Diddy more life hearts and items to help get them out of tight spots. A classic mode is also there for a tougher challenge.
Mario and Donkey Kong: Minis on the Move offers players the chance to create their own stages and share them online.
LEGO City Undercover: The Chase Begins comes out on April 21st in the US. It's a prequel and offers a backstory to the game's main character Chase McCain.
Animal Crossing: New Leaf is coming out on June 9th. To celebrate its launch, a new 3DS XL bundle will be released with the game pre-loaded: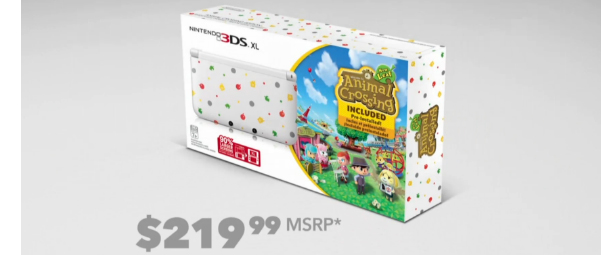 The Zelda games originally developed by Capcom "Oracle of Seasons" and "Oracle of Ages" will hit the 3DS Virtual Console on May 30th.
Bravely Default: Flying Fairy and Professor Layton and the Azran Legacy will both come to North America in 2014.
Guild02 Japanese games making the transition onto eShop in the US: The Starship Damrey, Bugs vs Tanks and Attack of the Friday Monsters: A Tokyo Tale.
Shin Megami Tensei IV dated for July 16th.
Last, but not least, there will be a new Legend of Zelda game hitting the 3DS, set in the same world as 'Link to the Past' from the SNES era.
Wii U
New Super Luigi U is DLC for New Super Mario Bros. U where Luigi is the unlikely hero. Luigi jumps higher but skids more. The overworld is the same, but all levels have been re-jigged to make it a different experience. Coming in Summer 2013.
A new Yoshi's Island game is coming to 3DS, it will be the third in the series as a whole.
The so-named "Spring update" hits Wii U next week. It brings along many new features:
Improves loading time between software and the home menu.
Ability to move data between USB drives.
Install software while you are playing a game.
Automatically receive updates without starting up the software.
Press B to get right into Wii mode while console is powering up.
Download and install software even when the console is off.
The day after the update, we will see the proper launch of the Wii U's Virtual Console. Based on brief footage in the video we can expect these games, perhaps at launch, or soon after:
Kirby *SNES*?
Kirby *NES*?
All Virtual Console games will be playable in off-TV mode (i.e. just using the GamePad) and each will have a Miiverse community. Game Boy Advance and N64 games are expected at a future date.
Pikmin 3 introduces a new type of Pikmin. It is pink in color and can fly, carrying objects if needed.
Earthbound is coming to the Virtual Console!