Call of Duty 3 review
Does great control make up for lacklustre graphics?

Review written by
Ginger Bloke
We all know the story. As soon as we mention to our 360-owning "friends" that we've bought Call of Duty 3 on the Wii, we receive THAT lecture. The one about poor graphics compared to their beefy console.
It's a shame really, as I'm sure a lot of people will avoid this title purely based on poor graphics. On the other hand, I think if we stop comparing a Wii game against a 360 game, CoD3 on the Wii is hardly ugly, and for me personally the control method certainly warranted a purchase.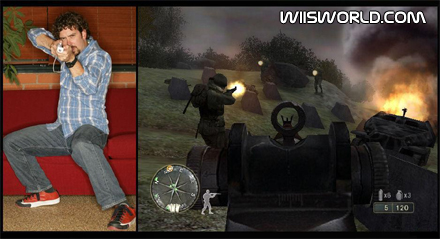 Back to basics: The game is of course a World War II saga, and in this case tells the tale of various Allied forces converging on the German army in France, bottling them up and effectively turning the tide of the War. The story is told well through cut-scenes and in-game conversations, similar to other CoD games.
The last game in the series I played was CoD2 on the PC and I loved it to bits. For me, the big selling point was the combination of tight control and atmospheric gameplay, which proved to be incredibly immersive. I'm happy to say nothing has been lost on the Wii, and I'm edging towards thinking that the experience is even more realistic and involving.
In terms of control, which must surely be the biggest question on your mind, there is a slight learning curve, maybe 15 minutes in total. After this you'll find yourself forgetting you're doing anything new and innovative, and just shooting naturally as if you were holding a light gun. The main gameplay mode controls very tightly, and definitely adds to the realism. My only gripe is about grenade actions being assigned to the D pad, which is a little tough to reach, but it's a very small gripe.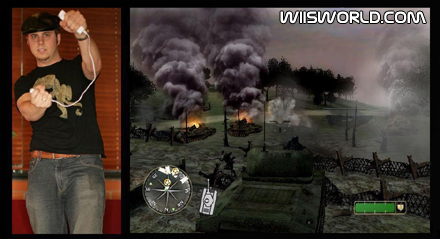 Continuing the immersive experience is the sound. The game runs in lovely Prologic II surround, and on my home cinema system sounded fantastic. You hear bullets zip around you, clips clunk and click on the Wiimote speaker, and explosions resound around the room. In short, the sound in this game is sometimes disturbingly realistic, spoilt only by a few glitches where sound will sometimes stutter, which is a shame.
Graphically, of course we're missing some of the polish from the 360 version, but you're still looking at a pretty realistic game. While fancy water effects might have been taken out, the meat of what makes CoD great, like the destructible environments are all still there. Bullets rip into walls, tanks blow buildings apart and explosions take out satisfying amounts of the enemy.
Interestingly, CoD3 on the Wii features some new gameplay additions, almost mini-games, which make use of the motion-sensing controller. Some of these have been implemented better than others.
In particular, the driving levels, where you hold the Wiimote and nunchuk as if they were a steering wheel, work very well indeed, as do the tank levels. Driving with the nunchuk stick and turning the Wiimote to aim the turret is an intuitive and satisfying experience.
More mediocre are tasks like planting explosives and hand-to-hand fights with Germans, which are somewhat laborious. They're not encountered very often though, and do provide an occasional respite from the main gunfights. And of course there are a couple of ridiculous tasks, like paddling a canoe across a river, which isn't fun, serves no real purpose in the game and really interrupts the flow of the action.
I guess we've seen this on a lot of Wii launch games. Just because something can be done on the Wii, doesn't mean it should be done. If it's not fun, leave it out - please!
Unfortunately for Wii owners, the biggest omission from the Wii version of CoD3 is multiplayer - in short, you'll be getting nothing. So once you've completed the main mission, which really doesn't take all that long, all you're rewarded with are some videos of veterans telling their tales of Chambois and the Falaise Gap. There is a harder difficulty level to work through, but nothing different once you've played through the game once.
On the whole though I would recommend CoD3 to WWII or FPS fans, on the basis that its control is very tight and the experience is still extremely immersive on Wii, despite graphical shortcomings. Great fun, while it lasts.
72%
Gameplay:

Graphics:

Sound:

Lifespan: