Excite Truck review
Pure adrenaline arcade action - Yee-Haw!

Review written by
Ginger Bloke
Excite Truck is what a lot of people are crying out for on Wii. When they're sick of tennis and baseball, and are stumped with a dungeon in Zelda, there's nothing better than to pick up a simple, fun, arcade racer and blast around islands in ridiculously over-powered trucks!
When I first fired this game up, it reminded me tremendously of one series in particular - Burnout. The reliance is on turbo boosts, rather than tight corners and realistic racing physics, even more so than in the Burnout series. Turbo boosts are achieved simply by tapping a direction on the D pad, with the twist that your engine will overheat if you overuse the turbo. So you'll need to catch some air or rip through some water in order to cool down.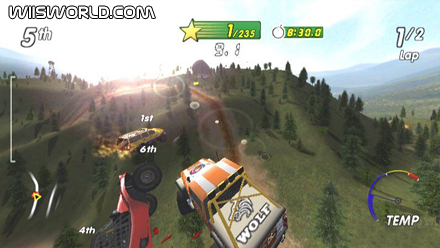 Interestingly, the focus isn't on winning the races either. The goal is to achieve a certain number of star points on each level, in order to unlock the next. Star points are gained by huge jumps, tricks and drifts, not to mention a good old fashioned "Truck Smash", which is self-explanatory! To achieve these stars, you find yourself zooming around the landscape looking for the biggest ramps, or using special items to morph the scenery to enable you to catch some big air.
Most importantly, the experience is extremely fun and addictive. You control the car by holding the Wiimote sideways and tilting to corner, while pulling backwards to catch some air while going over ramps. After a few minutes of this play mechanic it all seems ridiculously familiar and intuitive, and is by far the most analogue control you'll find in a racing game.
Graphically, the game has some nice environments which appear detailed although somewhat samey after a while. Scotland for example has some huge castle buildings which wow you at first, but by the third track in that location you'll have seen it all before. The locations are different enough though, ranging from idyllic Fiji to freezing Finland, so you'll have plenty of variety across the board.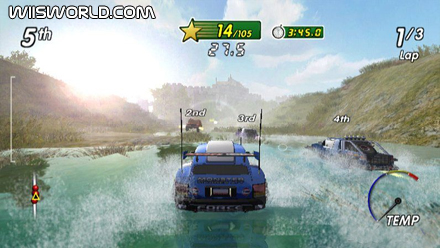 In terms of sound, the in-game soundtrack is somewhat weak. A basic collection of heavy metal riffs that will soon become rather tired. A massive positive point however, is that you can simply whack some of your favourite MP3s on an SD card, slot it into the Wii and then have Excite Truck use those songs as your in-game music! An excellent feature that I'd love to see used in more games.
The game has a decent selection of cups and modes (about the same as you'd expect from a Mario Kart game I suppose) and enough unlockable vehicles, paint jobs and other extras that you'll keep coming back for some time. Definitely recommended for anyone who wants a little old-school arcade action on their Wii.
85%
Gameplay:

Graphics:

Sound:

Lifespan: