Mario & Sonic at the Olympic Games review
Not too dramatic for the first M & S crossover.

Review written by
TruBlu
Well, sports might not have been the best genre for the first Mario and Sonic cross-over (just a collection of events), but I think this game did the best it could to simplify the skill differences between the two franchises. It pulled it off really well. In fact it rocked. You see, it all depends upon the players skill, and how fit you are. Your arms will feel like noodles if you beat all the world records in order to unlock Silver and Donkey Kong (it's false).
Anyway, each character has a statistics bar at the player select screen. Just because Sonic's speed is maxed out and all of his other stats are low does not mean, say, Tails can't beat him in a 100 meter dash. You will have to put just a tad more effort into it, as you would have to try harder with you playing as Sonic against Tails in an event he excels in, such as gymnastics. Tails' top-speed isn't great, but he has super skill. Keep in mind at least 8 players compete in (most) events. There are also 16 playable characters.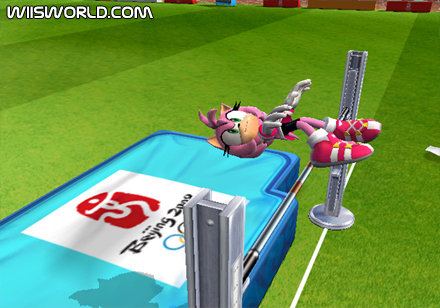 The graphics are great. Good for the Wii, I suppose. The Sonic characters seem to have been updated in design, as Vector looks better than ever, but Tails is back to his ugly brown, instead of his sunny yellow color. Voice acting is so-so. It feels like the Mario characters just got recycled voice clips occasionally. Get first place with Daisy she says "Yeah! Wahoo! Hi I'm Daisy"... but the rest of the cast are great. Mario's voice doesn't crack like it did sometimes in Galaxy. The Sonic side has nice voices. Jason Griffith is Sonic's voice actor in this, and does a pretty good job. Still a little deep. Amy Palant has improved a great deal (but is NOT the best by far) as Tails' VA since Shadow the Hedgehog and her ghastly performance in Sonic the Hedgehog for PS3 and Xbox 360. Tails' has one heckuva adorable chuckle (NOT a laugh, it's a CHUCKLE) when you get first place in an event. It's like a reward unto itself!!... And the rest of the gang are a bit above average. Knuckles' Dan Greene still could use some improving.
The bonus content is somewhat lacking. Sure you get little medals and badges for completing missions and beating Olympic and world records, but those are useless, except for bragging rights. There is a section in the game called "Olympic Gallery" which has mini-games you play to unlock background music (you can only play the 10 unlockable BGM at gallery mode) and facts and info on the Olympics. Two mini-games in particular are especially fun, Whack-A-Mole (addicting) and voice memory (you can poke Sonic. 'Nuff said). Another HUGE BONUS is that you can use your Miis in every event. So Naruto and Harry Potter can duke it out in fencing, along with a very 'kawaii' catgirl or two.
What I'm disappointed in is the character interaction. There is none. In the beginning demo Mario and Sonic's eyes meet. That's it, they don't even speak to each other. Also I'm disappointed that the events do not utilize each characters individual skills. So Blaze's flame manipulating powers, Mario's numerous costumes and fireballs, Knux's punching and gliding, Tails' flying and passion for mechanics are not used enough or are hardly shown. No actual storyline. M&S is the most tiring video-game I have ever played, which can be counted as either a bad or good thing. Good part is you get exercise, the bad is you can't play this for a long time in one sitting. Overall, I'm pleased.
~ SonTails Fangirl (or TruBluSonicFangirl or TruBlu) ^.^
80%
Gameplay:

Graphics:

Sound:

Lifespan: