Nintendo Pocket Football Club review
An enjoyable, costly manager simulation

Review written by
Matt Clewley
May 6th, 2014
One of the seemingly oddest titles in Nintendo's back pocket has finally been released. Nintendo Pocket Football Club is a small management sim that gives you the chance to play in your own league as well as to play others online. You start off as a small side that, in their wildest dreams, will climb all the way to the top of the highest league in time to come. You have a team full of lackluster players, and have to train them up to eventually become stronger and more efficient.
Those of you who haven't played management simulations in the past shouldn't worry too much, this game isn't as in depth as the likes of LMA or Football Manager.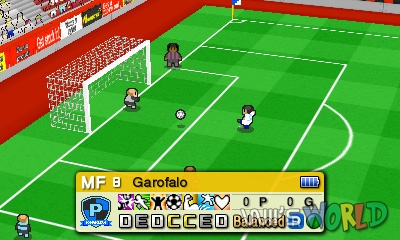 NPFC is unique when it comes to the gameplay and organization of your squad. In matches you collect cards which each have their own specific quality to them, they range from going to the spa and shooting practice, passing, dribbling... all sorts of wonderful cards. These cards are given to only one player (each player can only have 2 cards at a time) that can increase a few statistics which give them grades on how good they are at that skill. Some of the cards are put into combos which can increase stats even more frequently.
These cards will be your key to success, especially early on in the game. As I mentioned in a previous article about Nintendo Pocket Football Club, the game's main headquarters is split up into different sections. Stadium lets you handle matches in and out of season, in season are obviously the most important. It's nice that you can have practice matches and friendly matches during the season.
Federation is your home for the fixtures list, the league tables and also other statistics which you can look at when it comes to other teams and league opponents. This is important as knowing the statistics from other teams will benefit you to helping your own team out.
Office lets you handle club management when it comes to buying and dismissing players and the option to change things like your club name and kit whenever you want.
Team Camp is the main center of attention when it comes to pre-match/practice preparation. You can use the training cards you have collected during matches on the players who you think need to improve. In the beginning you should focus on your main eleven.
You can save the game with your trustworthy Clock Tower, just so you don't ruin your good run. And finally Airport, where you can test your team against anyone else who is online.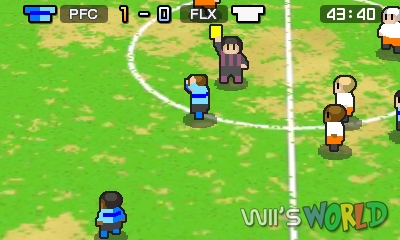 The statistics of the football players are clearly shown when you play the game, so there's no nonsense of being inaccurate. The gameplay at the start of your team's goal is heavily frustrating, with a few low stats it is annoying as your players seem awful at reacting to passes half of the time. Having a good goalkeeper is a must if you are going to survive, so either train up the keepers you have or buy a new one.
The visuals are great for this game, and the 3D works brilliantly as you see the pixelated players run, slide and kick their way to victory. It's another adorable make for the Nintendo clan, this game taking the seriousness away from football and giving it some nice addictive gameplay. There are no teams like Manchester United on this game, so don't expect a roster full of teams that are known in real life.
However, the more you play the game the more you will understand about the leagues and the style of football the big leagues play. There aren't many styles or formations to this game, which is a shame as it could have done with packing more of a punch when it comes to tactical decisions, but it's a game that is kept simple so the players can be any age.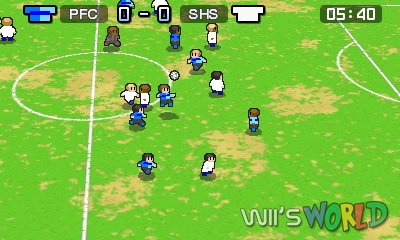 With no age barrier it is a good way of getting younger gamers into the world of a management simulation. You have Theme Park, The Sims and SimCity leading the pack when it comes simulations, and I think this game is up in that league when it comes to fun, not with the creative aspect, but with its charm.
The training is the most fun when you're not actually playing, as you get to help and watch your players develop, hopefully enough to become the best in the game. Transfers are simple as it's easy to buy and offload players, though I think an option for loaning out a player would have been beneficial too.
As a football managerial game it lacks heavily compared to most, even though it is less stressful it has less depth when it comes to brainpower. For those veteran football manager gaming experts you shouldn't expect too much of a challenge, even if you start off as a small team and get them to win the Premier League.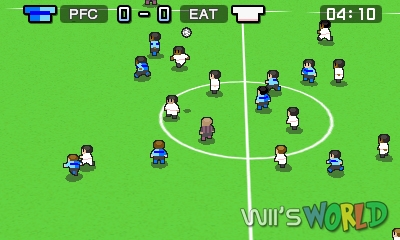 The game takes a while to get your head around when it comes to trainer cards, even though I tried my best to increase every stat on every player this doesn't work for when you get to a higher league.
Its visuals and gameplay are divine, simple and charming. Even though Nintendo Pocket Football Club lacks the standard football knowledge of the consumers who will likely be playing it, it is a brilliant title that is sadly let down by the asking price.
88%
Gameplay:

Graphics:

Sound:

Lifespan: