A journey through Hyrule... and the ages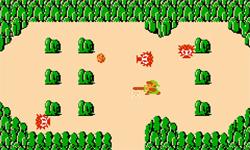 Can retro games still hold my attention?
I somehow got the crazy idea that I wanted to beat all the Legend of Zelda games. I don't know why I even got myself so worked up about this, I am terrible at finishing games because I am easily distracted.
So, ignoring my common sense, I started to play the first The Legend of Zelda... and 30 minutes later I am already feeling utterly defeated. Not that it's a bad game, it's actually quite fun, I just can't deal with going back to the starting part ever time I die (which is more than I care to admit).
Part of me just wants to move on and begin with Ocarina of Time. I'm spoiled to the 3D worlds after all, but the other part of me thinks I would feel super accomplished and connected to the series if I played through all of them. Oh, the struggles of being a gamer. I will blog my progress through each game if I manage to keep this up!
Have any of you guys played through the entire series? Any advice?