Endless Ocean review
Shallow waters = Ocean therapy!

Review written by
Randolph the Grey
Endless Ocean is an experience unique to the Wii. It puts you into the flippers of a scuba diver, navigating your way around a fictional ocean to document the creatures living there. You can also seek out hidden treasures buried along the seabed.
This game is purely relaxation. It may not be that deep, but it is one of the most enjoyable experiences on the Wii thus far. Some may say that it's no good because it's not action packed, but this game is very polished. Nintendo never fails to impress.
Graphics
The graphics are very beautiful underwater, with the fish and other aquatic life simply taking your breath away. I've gotten lost many a time in the water just exploring. The diver animations, the water animations, and the animal animations are all smooth, they're clean, they're very nice. The ability to zoom in on just about anything underwater makes the game seem much more detailed, and it's fun to zoom into random places, as you never know what you'll find.
On the flip side, out of the water, the graphics seem to flop. You don't have many choices for a character design and they walk stiffly. The water when you're on the boat seems kind of bland, and there's not much to do, but wait to get back in. However, you'll spend most of your time in the water, so you don't have to suffer through the boat scenes for long.
Sound
The constant breathing of your diver is nice, and it gives a layer of realism to your explorations. The noises that the fish make to you sound good too. The swish of water behind your fins helps add to the hypnotic underwater world.
Accompanying your dive is a soft soundtrack that perfectly suits the peaceful mood. If it's not to your liking, you also have the option to load your own MP3 tracks via SD card.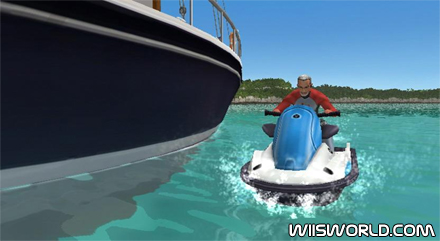 The lack of voice overs is obvious, especially for a game that doesn't have much depth of gameplay. They don't even move their lips! However, you don't have to deal with this underwater.
Gameplay
Very simple. See that? Two words to sum up the gameplay, but I will go into specifics here. You point where you want to swim, and you pull B. Then you swim there. Too difficult? Press the minus button once, and you'll not have to worry about holding B. Just press any button to exit auto swim mode.
To interact with fish, point at them until your reticle turns yellow, and press A. When you're zoomed in, you can tap A on the fish to poke it, or hold A and waggle to pet it. Or, press start, and you can select food and feed a fish. By interacting and familiarizing yourself with fish, you'll gain information from them for your underwater encyclopedia.
Also, the ability to unlock new underwater suits and equipment adds a small bit of depth to this game, though not enough to really make a difference.
That's it. There's the gameplay summed up. I may sound pessimistic, however, I'm making sure that people understand this. The very, very simple controls don't hamper gameplay by any means. It only helps to make the controller disappear, to immerse you in the underwater paradise. You can easily lose track of time just poking fish, exploring coral reefs, and searching for treasure. It's amazing how simplicity can hypnotize you.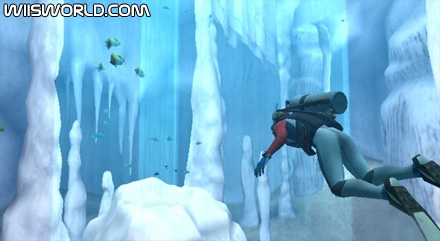 Online
It never hurts to have online, although the Wi-Fi functionality of Endless Ocean adds little to the game. Still, some may find it fun to explore with a friend. Personally, I stick to solo play. There's not much to describe online that I haven't mentioned already. There's no lag, so you'll have smooth gameplay. It's not bad online, it's just not different.
Summary
Any new property from Nintendo is worth a look. This is the most simple a game can get, but the most relaxing. There are no time limits, no life to worry about, just you and the ocean. The small flaws can be overlooked. This game rides solely on its simplicity to deliver some of the most therapeutic gameplay ever created.
There's nothing to stop you from picking up this game. Even its price tag is only $30! So grab the game, grab your controller, and get lost in the ocean.
82%
Gameplay:

Graphics:

Sound:

Lifespan: