Metroid: Other M review
Any objections, Lady?

Review written by
Andrew Gray
September 5th, 2010
Metroid: Other M has been controversial, to say the least. Differences to the core Metroid gameplay, along with a third-party developer have alarmed and alienated fans. Now that the game is finally here, does it deliver or stumble in conveying Samus Aran's latest tale?
Other M is markedly different from previous Metroid games, not the least of which in its approach to storytelling. As usual, Samus intercepts a distress signal, this time from a seemingly abandoned Bottle Ship. The signal also attracts the attention of a Galactic Federation Marine group who include Samus' longtime friend Anthony Higgs, and her father figure Adam Malkovich, elaborating slightly on their already established relationship from Metroid Fusion. Whereas other Metroid titles had a bare minimum of story to keep the action going, Other M instead relies on quite a few CG cutscenes. Though the game's beginning features a stunning recreation of the final battle in Super Metroid, things slowly go downhill from there.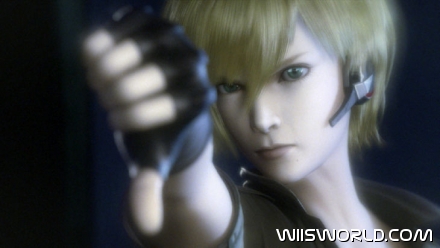 While the overall story is fairly good for a Nintendo developed title, the actual telling of the story stumbles due to poor writing, acting, pacing, and the distinct feeling that this story has been done before. In fact, the majority of this story already has been told in Metroid Fusion, with nearly every major part of the back-story already having been established in that GBA title. Not only that, but the 'ship exploration' premise and what Samus ultimately discovers aboard the ship are nearly identical to everything found in Fusion from instigator to consequence. The overall villain of the piece comes off as lame and unoriginal, especially since you don't actually get to fight them at the end of the game. Players expecting a terrific yarn will be disappointed, though they will get quite a bit of Metroid fan service.
The actual game itself is slightly different from nearly every 'classic' Metroid title, yet feels like a direct sequel to Metroid Fusion. The overall gameplay consisting of exploring areas, fighting enemies and gaining new abilities remains the same, yet there are a few changes to the formula. Similar to Metroid Fusion, the game is quite linear, with objectives being given to accomplish rather than having the player simply explore and discover things at their leisure. Other M is not, as initially believed by many, to be just a 2D action/adventure in the vein of Super and Fusion. Other M incorporates 3D movement similar to a typical third person title like Team Ninja's own Ninja Gaiden titles. In fact, combat is remarkably similar to Ninja Gaiden, with a similar emphasis on speed, killing strikes and dodging. Thankfully, Team Ninja has seen fit to ensure that Other M isn't nearly as difficult as one of those titles. For the most part, combat takes a bit of a learning curve to get used to, but is fun and fast. Naturally, exploration and item collection are emphasized. However, because missiles can simply be recharged after a few seconds, collecting missile tanks seems largely unnecessary and skilled players don't require many energy tanks either, a surprising difference for a Metroid title.
Apparently trying to take inspiration from the Metroid Prime series, Other M makes it necessary for players to switch between third and first person perspectives; the first person view is necessary to open passages, combat certain bosses and enemies, and be able to use missiles in general. Some players may find it difficult to adjust to the constant switching between views, especially with how the game deals with these perspective issues. Rather than having first person be the area directly in front of the player, it is instead the area facing from Samus' front. Normally the game is played with the remote on its side i.e. the 'standard' NES style control, but pointing the remote towards the screen is required for first person mode. This may result in many frustrated players who have but a few seconds to fire a needed missile into an enemy and find themselves unsuccessful. Those who have a good sensor bar setup and reflexes shouldn't have much of a problem using the first person view after a small learning period, it still remains an issue and shouldn't have been necessary to play the game. The player is also occasionally forced to play as Samus in a combat-free, over the shoulder view similar to Gears of War and Resident Evil 4. These sequences are apparently for 'cinematic flair' but severely impact the game's pacing and just feel irritating.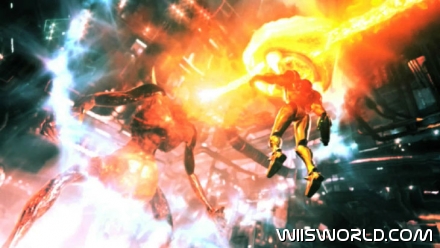 Team Ninja proves their technical expertise with this game, as the graphics in Other M are stunning. CG cut-scenes aside, the art and scenery are exceptional with quality similar to and almost eclipsing the Gamecube Metroid videos from Spaceworld 2000. Samus is especially well detailed thanks in no small part to excellent animation, and longtime Metroid fans will be startled at the amazingly accurate transitions of certain creatures and enemies into 3D. The environments are mostly colorful and well detailed, but occasionally can cover up hidden passages in an undesirable way. To that end, it may be necessary to play the game in 480ip with a component cable. Without it, the game can be incredibly blurry and dark.
Unfortunately, the same cannot be said for the sound. While the music and sound effects are exceptional, there is barely any music whatsoever and sound effects cannot carry a game. The voice acting runs the gamut from average to terrible, once again reinforcing the belief that Nintendo should not add voice acting to their games. Samus' actress in particular sounds robotic and lifeless in most scenes, with the only standout actor being for Anthony. Two baffling questions arise from this; the first is why Nintendo couldn't have gotten Samus' original voice actress, Jennifer Hale, to reprise her role in Other M. Hale has far more experience than Jessica Martin and would most likely have been a better choice for the role. Also, why couldn't players have been given a choice to hear the Japanese language track? The Japanese version had the English voices, so why not?
Other M features a near metric ton of fanservice as well. Not only is much of Samus' backstory explained, we also see things referenced by the Metroid manga such as Samus' fear of Ridley but not of Mother Brain. Almost every enemy type is taken from either the original Metroid and Super, and more than one boss is taken from both the console and handheld titles. Players also finally get a glimpse into Ridley's species, and more of what may have been going through Samus' mind during Metroid Fusion.
Metroid: Other M is a game that while different from the original Metroid titles in certain details, is similar in spirit to the series' best. It may not be the 2D Metroid sequel many wanted, but it is nonetheless a fun game and at least worthy to be in the Metroid pathos, story aside.
78%
Gameplay:

Graphics:

Sound:

Lifespan: