Sonic and the Secret Rings review
Ladies and Gentlemen, Sonic's finally fun again.

Review written by
Joseph The Squirrel
The Sonic series has hit many homes since its '91 debut. Its fast paced action and blurring backgrounds caused many to wow with wonder. Sonic and the Secret Rings is the blue blur's newest adventure, and it's pretty quick on its feet.
Now, I have been a long-time sonic fan. However, that doesn't make me stupid; I know that recent Sonic titles, no matter the console, have pretty much done horribly, from Sonic Heroes to the most recent '06 Sonic the Hedgehog. Here's the good news: Secret Rings is a real nice step in the right direction.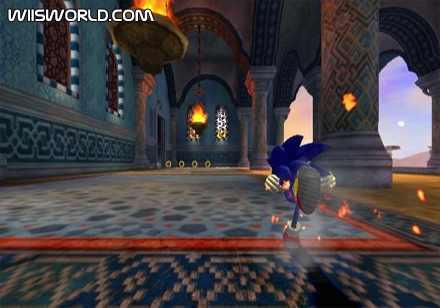 The basis and overall theme of the game centers around the Tales of the Arabian Nights. The story has Sonic being sent into the big book of Arabian fairy tales and going around making sure that the evil Erazor Djinn doesn't burn all of the book's pages from existence. With the help of the Genie Sharha, you are out to preserve the book as a page-turner.
Sonic hasn't had a true solo game since his first one. Until now. The entire game is played just as Sonic; no 'faker' Shadow, no robo-Tails, no Indiana Knuckles. That isn't to say you don't see them - sort of. Sonic's friends and others do show up throughout, but they're only playing the parts of the Arabian story counterparts. As such, they don't know who Sonic really is.
The voices played by the cast in the game are pretty bad. Sharha sounds too emotional, Tails sounds like he has laryngitis, and Knuckles sounds like Brock from Pokemon. Sonic sounds passable, but he's not as good as the Sonic from Sonic Adventure 2, who even then was only pretty okay. What's more, when playing through the level, Sonic and Sharha will exchange small dialogue that is really annoying to hear again and again and again, especially when you die and come back only to have them say the line you just suffered through before dying.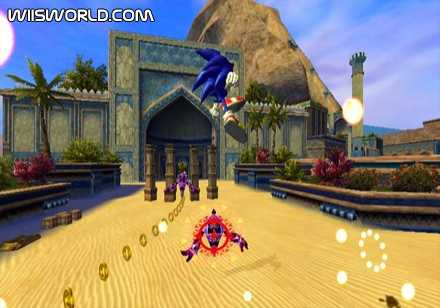 The controls for the game are really intelligently designed. The Wiimote is held NES style, and you tilt left and right to turn. You constantly move forward unless holding down the 1 button (the brake), and jump using the 2 button. Homing attacks are your main offensive movement initiated with a flick of the Wiimote. The control system isn't entirely foolproof however, as it will take you a WHILE before you get them down; but once you do, you'll be a pro at it.
Little bit of reminiscence here: in Shadow the Hedgehog, which was horrible, there was an ability that allowed you to go intensely fast, or destroy a lot of things after defeating a certain group of enemies. However, the abilities were mostly more of a pain than a help in the game. This is revisited in SA, but luckily, it's pretty good. The Speed Break and Time Break are done by gathering pearls scattered around stages. Speed Break sends you at a giant speed, while Time Break goes all Matrix on you and time slows down so you can have great precision. Both skills are equally useful, and you'll love using them.
There are seven worlds, and each one has great design. The art in this game has great attention to detail and the Arabian theme is present in them all. Each world has various missions to do, each on a certain position in the world. If youire confused, think how in Excite Truck, even though the stages are different, the areas you race are the same. The music in the levels is passable, but not spectacular. There isn't much innovation into the various tunes. When you restart levels after dying, the song starts over and you'll get even more annoyed with it, so much that after you hear "Dino! It's a jungle!?", you'll want to rip your ears out and hide them under your pillow. Unfortunately, there's no ear fairy to make the horrible music go away (unless you count the mute button).
The missions are REALLY difficult, they will definitely take you at least four tries per mission to get down. There are a few types that can be performed, like collecting a certain amount of rings or defeating a certain amount of enemies. Different levels of medals can be acquired with different levels of skill, and they unlock special goodies and different party games (more on those in a bit).
The game features a level-up RPG system which grants experience after defeated levels. The points gained allow for skills that can be used to improve attack, speed, and the overall control difficulties you might feel (and there'll be a lot of 'em). There are over 100 skills to get, and you'll want them desperately, some more than others.
The unlockables in the game are usually just little pictures and such, or some party games you can play with friends. The games aren't much fun, but a few are worth playing. Nothing too special.
The game's focus is on speed, and it's well-brought out. While the game isn't the best Sonic title, it's the best console Sonic game within the last four years. It definitely deserves a rental, and possibly a buy for all of the nifty goodies. Speed on Hedgehog.
68%
Gameplay:

Graphics:

Sound:

Lifespan: