Super Paper Mario review
Who would've thought paper made for a great game? Three times!

Review written by
Joseph The Squirrel
Paper Mario began on the N64 as a new branch of the Mario series. As opposed to the Super Mario way, this was a complete RPG and it pulled off a really good game. Then the Gamecube sequel Paper Mario and the Thousand Year Door reinvented the entire battle scheme with the introduction of an audience and an even broader, bigger and better storyline; not to mention great characters. Now, a new Paper Mario has jumped from its original destination as a Gamecube title onto the Wii in Super Paper Mario. Here's the catch: it's entirely different... in a good way!
The game begins with the wedding of Bowser and Peach (HUH!?), as hosted by the evil Count Bleck, the antagonist. Just as Peach refuses to marry Bowser, she is hypnotized into stuttering the words "I do", and thus an ancient prophecy foretold of in the Dark Prognosticus comes true and lots of bad stuff happens.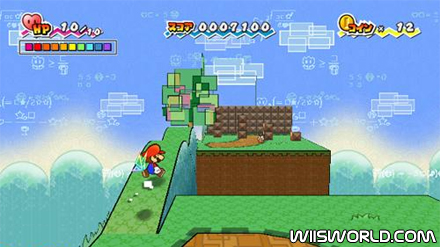 You jump DIRECTLY into the story, it can be a bit uncomfortable to just pop in but you learn to bypass it and play the game. As Mario goes in for the rescue, it's revealed that he is the hero of the Light Prognosticus and must collect seven Pure Hearts to beat the baddies. The plot seems a little weird compared to the other Paper Marios, but it's nothing to shake a finger at.
The old Paper Mario games were really good. There's no doubt there. They were RPGs where you would walk around on screen, an enemy would rush up to you and a battle would start; simple RPG mechanics. However, the battle was all a part of the entire story. It was a part of the play, if you will (play the games, you'll know what I mean).
Super Paper Mario throws all that out the window and turns it into a platformer, much like the classic Mario Bros. You hold the Wiimote NES style and walk/jump your way around the screen. The paper graphics work their best here, and it's believable. But is that all? Nope. With a press of the A button, you perform what is called a "flip", and switch from 2D to 3D; literally. The entire background moves and objects from the 2D plane are now paper thin, but for real. This allows for lots of new level designs, and trust me there are plenty to go around. Of course, being paper, Mario can't stay in the 3rd dimension forever so he's on a time limit. If he stays there for a long time, his health drops. It's a pretty good system.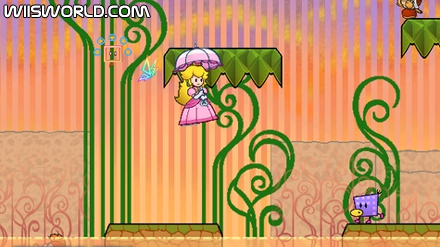 When I said that the system was thrown out the window, I didn't quite mean all of it. By defeating the on-screen enemies, you will increase your score. After a period of enemy bashing and score boosting, Mario levels up, with either a health or an attack boost.
In the previous Paper Marios, the partners were always the ones who helped you out of your puzzle troubles and fought back in battles. Super Paper Mario gives you Pixls, little cute friends that give you special abilities on the field. Mostly used to just get around puzzles, these good guys come in handy. The big shocker about the partner system is that you get to play as not only Mario, but as Peach AND Bowser too.
Don't misunderstand me; in the old Paper Marios, you could do that as well between the chapters. However, here they are actually played as during Mario's adventure. You can swap them out for Peach's great traveling distance with her parasol, or Bowser's great attack strength with his fire breath on the fly. Although the system is a welcome change, Mario is the only one capable of flipping to the 3rd dimension, which you use frequently. So he's the one used mainly.
The fact that the game was brought to the Wii should mean new features, right? Well, sorta. The only Wii-ish feature that matters is the ability to point at the screen and freeze everything in order to learn more about it. There are other Wii incorporated features in the game, such as shaking the Wiimote to get style points, or shaking it to avoid falling asleep in battle, but these could just as easily be done with a button. Not too much going on for it.
The entire game is done without voice acting, with this much story in the game you have text instead. The game is wordy. I mean, wordy. Like, as wordy as this review. There will be times you just want this game to ease up and let you play. However, the good news is that the words are actually very fun to read. The game's dialogue is actually funny, you'll chuckle and laugh at the great one-liners or corny things. Some entire chapters will have you busting a gut such as a simulated Sim conversation between a Chameleon nerd and Peach.
The graphics pull off an amazing paper feel and it'll keep you good and satisfied. Of course, this is paper we're talking about, so it's not that hard.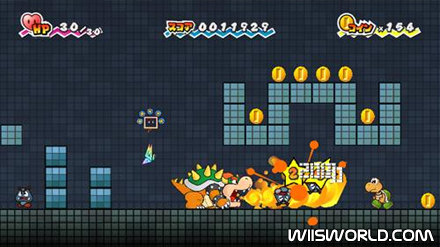 The sounds of the game are really in-tune and the level music might just stay stuck in your head after you hit the power button. The only complaint would be the lack of voice acting, but then again there would be a WHOLE LOT of it to go around, so it's a mixed feeling.
This game's replay value is pretty good. Although there aren't as many side-quests as I would like, there are certainly some things that you can venture onward for.
Super Paper Mario has to be one of the best Wii titles out there right now, second only to Zelda. This deserves a definite buy and many hours of play. What's in store for Mario next? Origami? Maybe. That one'll probably be good too.
82%
Gameplay:

Graphics:

Sound:

Lifespan: