Epic Mickey review
Epic Fail.

Review written by
Andrew Gray
December 5th, 2010
On paper and in press releases, Epic Mickey sounds like the kind of game that third parties would die to have on the Wii. A respected developer among the core crowd, an original concept, interesting story and a character who has almost as much, if not more name recognition with the casual crowd than Mario. With that kind of formula, and the enormous amount of hype the game has fostered, it sounds like an amazing experience. Unfortunately, it seems as if most of the budget was spent on the 'on paper' aspect of the game, and not enough of the 'in practice' portion.
The concept of Epic Mickey and its story are original and interesting. During the early years of his fame, a young Mickey enters the workshop of the Sorcerer Yen Sid (i.e. Mickey's 'boss' in Fantasia's "Sorcerer's Apprentice") in which the wizard is creating a home that 'forgotten' characters who have been cast aside can call their own (much to this reviewer's irritation, Darkwing Duck and other Disney Afternoon characters were forgotten by the game's own designers!). Sid creates this land with magical paint, erasing imperfections with thinner. Unfortunately, in his mischief Mickey not only creates a fearsome dark monster made of thinner known as the Shadow Blot (a 'new' version of the character Disney buffs would know as the Phantom Blot), but also ends up ravaging Sid's 'Wasteland' in the process. Fast forward to present day and Mickey is forcibly dragged into Wasteland itself by remnants of the Blot and his dark army.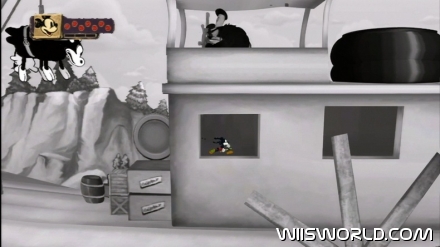 Though initially the tale sets out with Mickey simply wanting only to escape Wasteland, he later starts to understand the true ramifications of what he has done, symbolized by the first forgotten Disney character, Oswald the Lucky Rabbit. Oswald is bitter and resentful towards Mickey for stealing the popularity Oswald feels he should have had, and is initially hostile to his 'younger brother' (Long story short, Oswald was Disney's first creation, lost to a contract dispute with Universal Pictures. Without the character, Disney created Mickey as a 'stand-in' for the rabbit, leaving Oswald in the dust). The player ultimately chooses the fate of the two's relationship, and whether Mickey's actions either save or destroy the land. This ultimately boils down to whether you focus on using the restoring paint or damaging thinner with Mickey's magic paintbrush, a standard 'good/evil' choice in games other players have already gone through on Xbox 360 and Playstation 3.
Surprisingly, the game story is not told through voice acting, but through an abstract animation style and Banjo-Kazooie style grunts from characters. These grunts are in fact done by each character's main Disney voice actor, so it's disappointing that the developer didn't see fit to have actual voice acting in the game. Perhaps it was a memory issue with the Wii itself, but evidence leads one to believe it was more an issue with the developers than the system. The game's music is hit and miss, with the cut-scene music being amazing, but the overall game music feels lackluster.
The art style is extremely impressive, illustrating Wasteland as a dark Disneyland left in the closet, complete with forgotten rides and attractions. The graphics are unfortunately not nearly as good, and come across as being primitive and simplistic, leading to a gameplay issue discussed later. Graphic issues aside, the presentation in Epic Mickey is impressive enough that it could be made into an amazing animated film if Disney wished.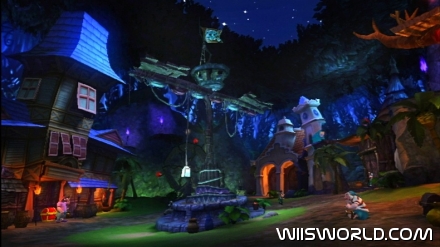 Though the presentation is good, what ultimately kills Epic Mickey are a myriad of gameplay issues. The first of which is that the game controls poorly; while the actual movement of Mickey himself with the nunchuk is fine, the developers obviously did not spend much time with the motion controls of the Wii Remote. There is significant lag when pointing Mickey's paintbrush at any area. Initially, this reviewer thought it was an issue with the senor bar, but when trying it with other games it was determined to be a problem exclusive to this game. In addition, paint and thinner are incredibly difficult to aim correctly, as there are many times when a wall or obstacle can obstruct your brush, wasting valuable paint or thinner. Not only this, but players will more than once become confused as to which areas can be affected by the paintbrush and which areas cannot, as there are not always indicators present.
As if all this weren't enough, the game has an absolutely terrible camera and dreadful navigation. Nearly the entire time the player uses Mickey, they are left on their own as far as figuring out what to do, something almost sacrilegious in current game design. Nearly all progress in the game that the reviewer made was almost completely accidental. Though one of Mickey's paint/thinner 'guardian' powers is supposed to fix this problem by pointing where to go, there are two major problems with this ability. The first is that a navigation ability should not be limited like this ability is and can only be used once in a while. The second is that the ability is mostly useless; either the control to activate it doesn't work entirely, or the glowing light that is meant to guide you often navigates Mickey straight into indestructible walls.
If the game itself were fun in the same way that Super Mario Galaxy was, these problems might be forgivable. Unfortunately, that simply isn't the case. The main method of progress in the game consists of fetch quests and busywork, and is incredibly tedious. From place to place, the quests mainly consist of finding three objects and bringing them back, with many crossing over into different areas. If these weren't boring and frustrating enough on their own, players can only navigate into new areas by going into 2D style 'cartoon' stages. While the concept of going into stages inspired by classic Mickey shorts is cool, having to go back and forth between the beginning and end of these stages constantly is not.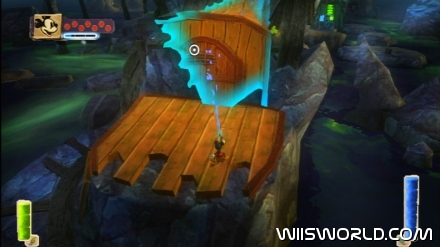 Though players can play through the game a second time with every upgrade, collectible pin and e-tickets (used as in game currency) in a new game + mode, it is likely that only the most dedicated Disney gamer would want to. Most will give up before the game's end and won't want to play again.
In the months leading up its release, the near legendary designer Warren Spector hyped his Epic Mickey project to near-Herculean levels. Unfortunately, in practice it is clear that more time and money was spent on hype than the actual game. If the game sells well enough to make a sequel to Epic Mickey, it needs to apply its own fresh coat of paint to the first game's myriad of issues. Also, next time don't forget Darkwing Duck.
58%
Gameplay:

Graphics:

Sound:

Lifespan: