Red Steel review
Looks can be deceiving.

Review written by
Matt Edwards
When I opened my N64 it came bundled with Goldeneye and I was extremely excited. At this point I had never played with an N64 but knew from friends that this was going to rock and fancying myself as a bit of James Bond, I'd be killer at the game.
Truth of the matter is I was shockingly bad, the N64 controller was like nothing I'd ever played with before, the unique thumbstick had me majorly stumped. Now at this point you'll be thinking what in blue blazes has this got to do with Red steel, please bear with me.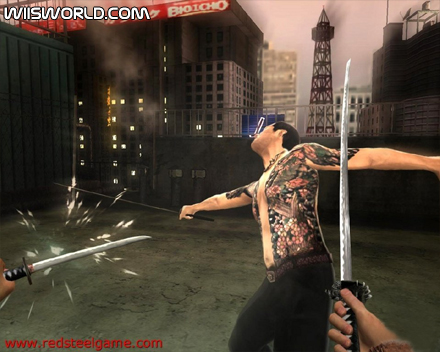 After about 1 hour of Goldeneye I started to develop my controller skills and eventually I became quite the ace, beating the game some week later. Red Steel presents itself as a Japanese style FPS, the style of the game and the general execution seem to point at a very credible first wave Wii title, however looks as we know can be deceiving.
The first thing you notice on Red Steel is the horrible initial game menu screen which is a play on neon light signs, but it is awfully presented and makes initial setup confusing to say the least. I had been warned by the guys in the local game store to set the controller sensitivity to low, but accomplishing this task alone through the main game menu is unnecessarily difficult.
When you finally get into the game you'll be greeted by average graphics and during the game there are some nice lighting effects, however Gamecube titles such as Resident Evil 4 really point to what could be achieved graphically. Bearing that in mind you can't help but feel that Red Steel fails to tap into the Wii's supposed Xbox-like graphics capability.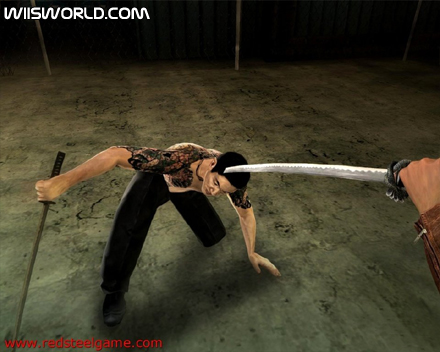 So what was all that Goldeneye talk about then, well Red Steel uses a very difficult and different controller setup, one that takes a lot of practice. However unlike Goldeneye there seems to be no incentive to keep working at it. The game itself doesn't encourage you to work at it and there is no training mode to speak of. There are several main problems with the controller setup in the game but the most annoying is that you can accidental spin your viewing angle merely by moving the main Wiimote controller into a corner. This puts you in a flat spin and sometimes it's hard to pull yourself out of it, which for a first person shooter is a ridiculous position to find yourself in. I'd hate to have turned the sensitivity up to high! Wax on Wax off.
As you progress with the game there are more niggles that start to play on your mind. Firstly ammo, if you do not have enough in the earlier levels you cannot then pull out your sword, there is also no way to battle using your hands, no punch or karate chop. This is so bad Daniel Son!
The second major niggle is your sword. When actually using the sword the experience is mediocre, the controller and nun-chuck do not translate your movements accurately, then there is the issue of only being able to use your swords with certain baddies and suddenly it's all starting to feel like Dragons Lair... mmm how very preset. There is no way you can pull your sword out ad-hoc and equally annoying is how the game will pause your swordfight to reposition you before allowing you to take back the helm. It's more fun to catch flies in chopsticks for sure!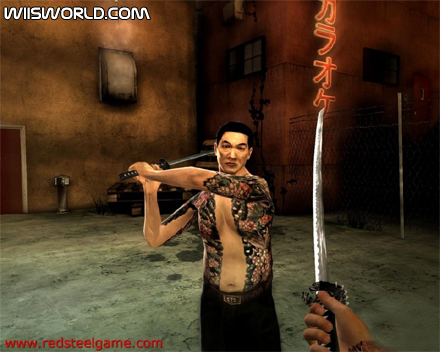 The third problem I had was the story, it's your typical daughter kidnap caper with you as the boyfriend, but when I say that the story elements are bad, I mean they are real bad. It's like Max Payne but achieved by a ten year old with an Amiga, the cutscenes are terrible. They look like a South Park joke, really Ubisoft what were you thinking?
Red Steel at its best would have been an average PC game 2 years ago. To be honest after 1 hour unlike Goldeneye everything felt as alien. After 4 hours of playing the game I had gotten bored, and felt unrewarded as I progressed to bigger guns which in essence struggle to differentiate themselves from the last.
The only unique use of the controller I actually liked was the zoom sight being accomplished by moving the wiimote forward or back when in targeting mode.
In short, if you want to have a try go rent a copy. I guarantee that you will not be sad to give it back. It fails to really showcase the Wii and its unique controller. In short Mr Miyagy would be "weerry disappointed".
59%
Gameplay:

Graphics:

Sound:

Lifespan: